STAGE 1 | XCM
60,5 km & 2.050 m+ | Oviedo 02.07.2021
Una etapa que discurre por la zona de Siero con salida desde Oviedo, que cruzará la zona de Colloto para acceder a los increíbles bosques de Tiñana (km 8). Una vez crucemos la zona de bosque repleta de subidas y de bajadas con flow, nos dirigiremos hacia Molledo para afrontar la primera bajada técnica de la jornada rodando por sendero fácil hasta el pueblo de La Zorera. De camino hacia la segunda bajada del día hasta el pueblo de Santa Marina nos adentraremos por bosque y empezaremos a subir el Pico Villa donde encontraremos el primer avituallamiento. Una vez repuestas nuestras energías, afrontaremos la subida más larga del día en el km 30 hacia La Grandota de 2 kilómetros de subida hasta los 500 metros de desnivel. Después de esta subida veremos todos los montes de la zona centro de Asturias, viendo posiblemente también los Picos de Europa. Pasado este punto, afrontaremos una bajada lenta hasta Oviedo pasando por la Iglesia de Santa María de Limanes. En esta etapa encontramos un recorrido cargado de subes y bajadas constantes, muy divertido y con una larga subida en el Pico de La Grandota.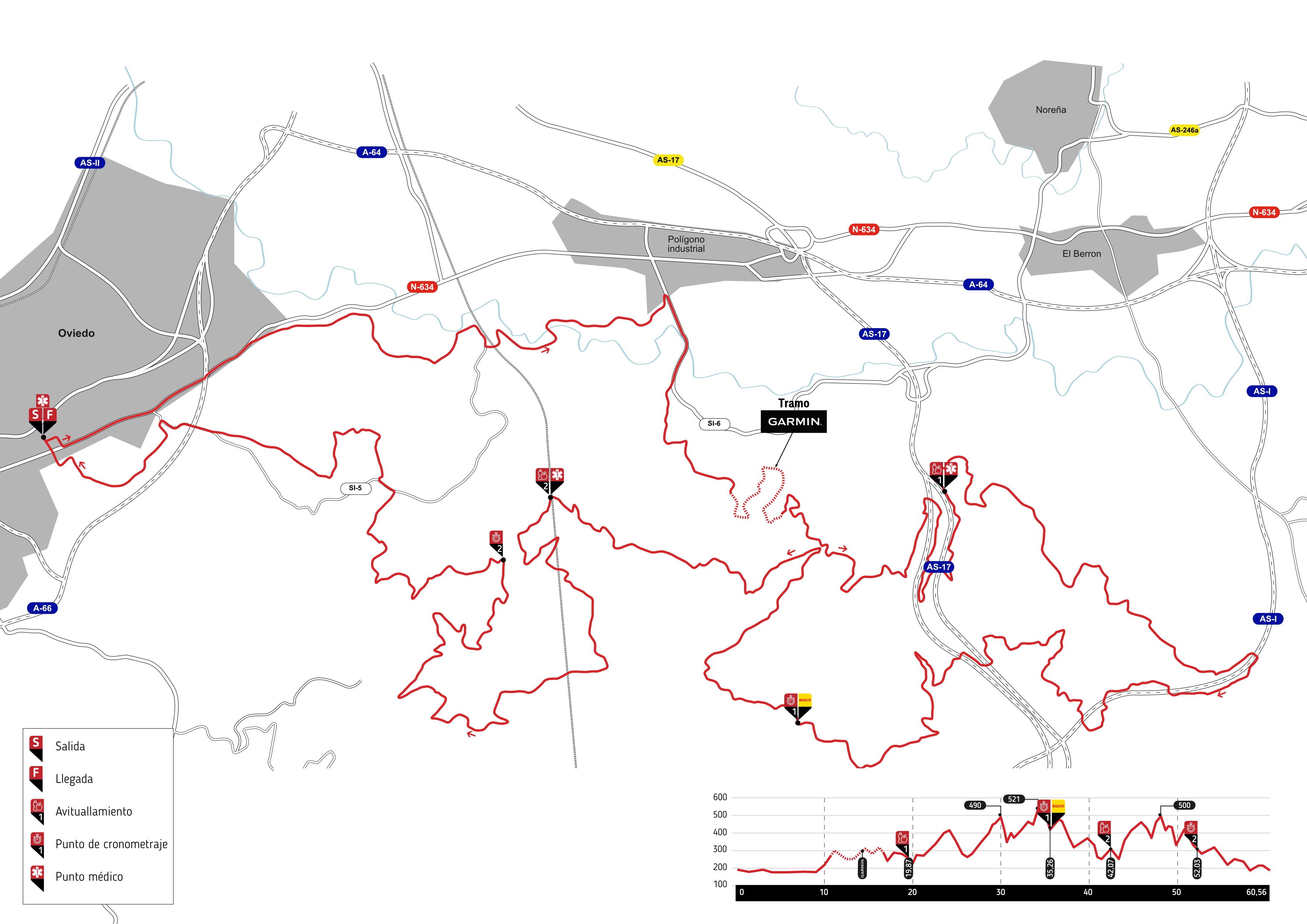 NISSAN SUPER STAGE | XCM
70 km & 2.600 m+ | Oviedo 03.07.2021
A stage that leaves Oviedo to go to Olloniego. It will be the Queen stage and will be harder than the previous stage. We leave Oviedo towards the peak of La Grandota by path and tracks descending towards Tiñana to climb again at La Grandota, so that we can see this peak from two sides. We descend by path to start one of the hardest climbs of the day from Tudela de Agüeria where we find the feed station 1. We descend to Tudela Veguín and we will start the second climb of the day to Pico Escobín, one of the hardest climbs and the highest point of the Concejo de Oviedo up to 690m. From there we will make a very long and technical descent through the Pozo de Olloniego, abandoned mining installations, which will take us to Olloniego in the direction of the Alto del Padrún with a descent to Soto de Rey to start the last climb of the day of 12%. Finally, we will climb Picu Yanza and descend two Roman roads towards Oviedo and the finish line. This is a stage where we enter areas of unspoilt nature in the middle of the mountains without houses or villages.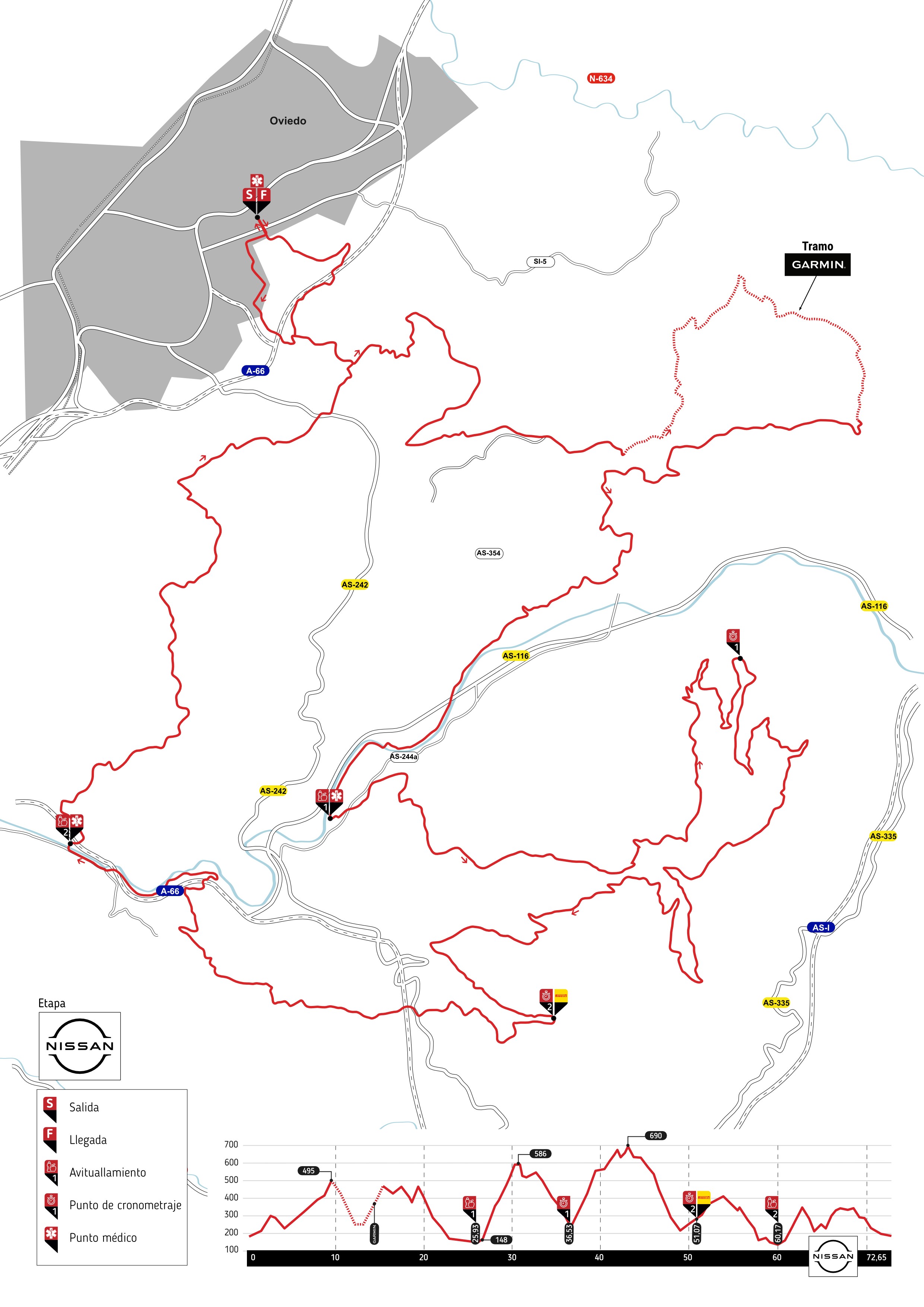 FINISHER STAGE | XCM
47 km & 1.450 m+ | Lugones 04.07.2021
The last stage will be funny with lots of singletracks that race entirely through Monte Naranco. It will be very similar to the last stage of the 2019 edition with small changes. The stage is characterized by the two ascents to the emblematic Monte Naranco, one at kilometre 5 that goes up to the Cristo del Naranco and followed by a long and technical descent to recover with lots of up and down trails. Last but not least, we have to focus on the last hard climb of the day going up to the Cristo del Naranco but on the back side. It will be a fun, hard stage with lots of ups and downs.